Pandã: the new national brand with matchy matchy sets (no granny patterns)
Launched in November, the label includes forward-thinking proposals to end the dilemma of matching pieces and colors.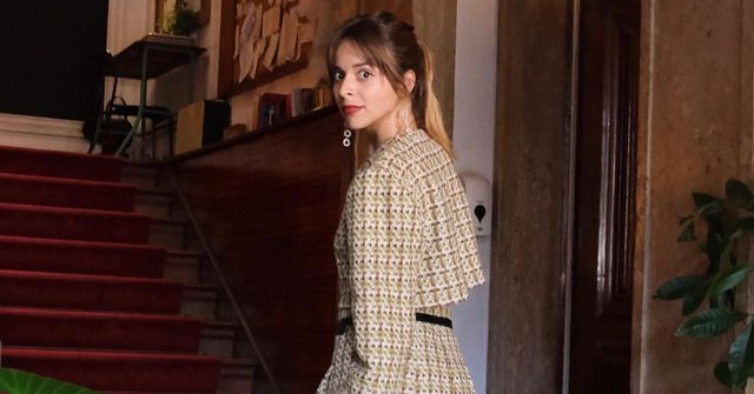 Matching sets are in fashion.
They weren't always seen as stylish options, but matching jumpsuits are becoming more and more fashionable. If for a long time wearing a set was almost as frowned upon as going out in pajamas, today this idea has been put aside. Largely because of the increasingly cute and daring proposals. With Pandã, a Portuguese brand launched in November, you won't have to waste time thinking about how to match the pieces.
"Since I was little, I have always loved [de moda] and my mother saw that in me," says NiT Inês Fonseca, 29. The mother figure of the founder has always had a special taste for intricate fabrics, which is why the young woman grew up surrounded by lace, embroidery, tapestries, looms and crochet. In short, everything that was handmade happened in the family home in Leiria.
On the other hand, the father had a business selling linens and haberdashery. And, at a time when there was no talk of sustainability, "he was a very conscious consumer who remembered the importance of buying Portuguese products, especially local ones".
In this fertile environment for creativity, Inês discovered what she loved most about clothes. "I always liked to dress up and tried to do presentations at school to dress up in anything", remember. "I had a phase where my dream was to work in the circus, but only because of the clothes and the costume."
Later, he spent a year on the zootechnical engineering course, but realized that his path was through fashion design, graduating in Covilhã. She also spent a semester in Istanbul, where she worked a lot with textiles and embroidery, then did an internship in London.
In 2018 he returned to Leiria. The father had suffered a stroke and, together with the brothers, was responsible for his business. Despite a heavy experience, she realized that she wanted to dictate her own destiny: "In any job I got in this field, I couldn't be faithful to what I wanted to do, and I started exploring ways to produce the pieces that I loved. "
She learned to knit, and when she moved to Germany with her boyfriend in 2020, she even started a namesake brand. It took about two years, however, "these were luxury couture pieces, which took a lot of hours, and were more expensive", which proved unsustainable. Therefore, when he returned to Portugal this summer, he decided to bet on more affordable proposals.
"I started thinking that I had to find a niche to post something online and get some attention. I always thought the idea of ​​combining top and bottom was funny, like a joke", it says. "Although it's a trend, – which I don't like because I don't want something that is momentary, – it's a way to apply my theatrical side and explore the imagination."
The catalog includes several short pieces — such as coats and blouses — schoolgirl skirts and flared pants. Everything is made in a limited series in the workshop of a seamstress, Célia, and where she has five other workers. The space manager has her own brand of children's clothing, but produces for smaller brands in Leiria.
As for the fabrics used, "one of the biggest challenges", uses surpluses stored for several years. Some have been guardians for ten years. It showcases "the folkloric calico fabrics of Alcobaça, used in towels and curtains", which make people "look like real dolls"., as well as more natural fibres. All raw materials are locally sourced.
Inês plans to expand the brand: "The idea in the future is to also create matching sets for couples or parents and children. However, in the initial phase, it will be difficult to produce models for everyone".
Until then, the founder wishes to diversify the points of sale, participation in design markets being one of her most immediate objectives. "And I want to play more with the concept, to make inclusive campaigns with a message", he underlines.
All Panda parts are available at to place of the brand and the prices vary between 50€ and 80€. Click on the gallery to discover them.

see the gallery