A credit agreement to buy one house in a thousand in the country leads to complaints from customers with the Banco de Portugal. In total, complaints about mortgages and mortgages fell by 8.4% in 2021 compared to the previous year, with 2,255 complaints received, reveals the behavioral monitoring report presented this Wednesday by the supervisor.
"This drop is due to the decrease in credit default complaints, which in 2021 represented 8.9% of complaints regarding housing and mortgage loans," explains Banco do Portugal.
Considering a universe of 1,000 contracts, there is an average of 1.11 complaints, with five banks above this average. Banco CTT was the target of 4.36 complaints per thousand contracts, at the top of the table. Next come Caixa Económica Montepio Geral (1.57), Novo Banco (1.29), Santander Totta (1.22) and BPI (1.15).
With regard to consumer credit, the national average is 0.45 complaints per thousand contracts and, in this case, there are nearly twenty financial establishments above this threshold. The Volkswagen Bank branch (2.84), BNI – Banco de Negócios (2.48) and the RCI Banque branch (2.29) come out on top.
The most reported issues in the area of ​​consumer credit related to credit responsibilities, the collection of outstanding amounts and the collection of commissions or fees. 5,724 consumer credit complaints were received, an increase of 16.4% compared to 2020. Of these complaints, 2.3% relate to credit defaults, in the context of the covid-19 pandemic. The credit card is the product with the highest number of complaints (55.6%), followed by personal credit (26.6%) and car credit (10.7%).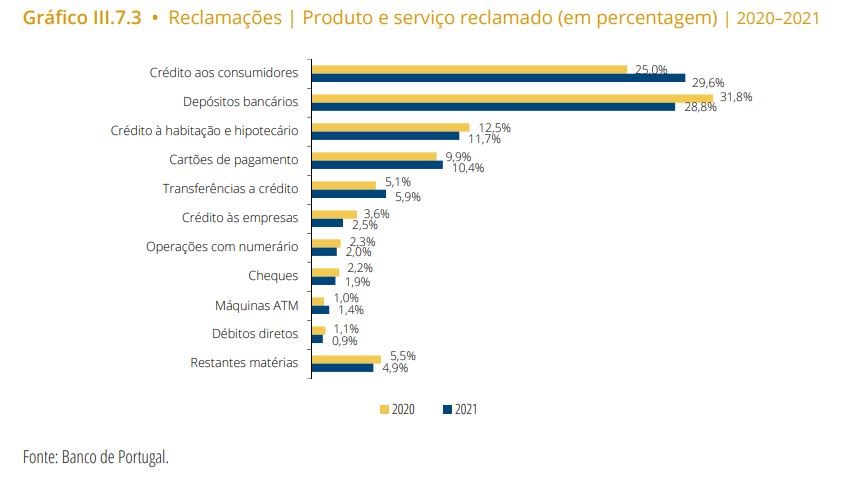 Bank deposit claims decreased by 10.8% to a total of 5,570 claims. "This reduction is due to the decrease in complaints about savings accounts," explains the Bank of Portugal. "The majority of complaints about bank deposits continued to focus on demand deposits (92.4%), with complaints about this increasing, with a focus on the rise in complaints of cardholder tampering /death of the holder", he explained. . .
In a universe of 1,000 contracts, the system average was 0.3 complaints last year. ActivoBank was the most denounced (0.62 cases), followed by Banco CTT (0.58), BBVA branch (0.57), Banco Atlântico Europa (0.51), Abanca branch (0.43), BPI (0.4), the Bankinter branch (0.37) and Caixa Económica Montepio Geral (CEMG) and BCP (both with 0.31).