At 37, Cristiano Ronaldo's future is the talk of the football world. Newspapers report that the Madeiran is no longer happy at Manchester United – a club he returned to ten years after his international debut and has always considered a second home – there are those who say that he wants to return to Real Madrid and, despite the excellent physical shape, some believe the Madeiran could be on his way to Sporting to end his playing career.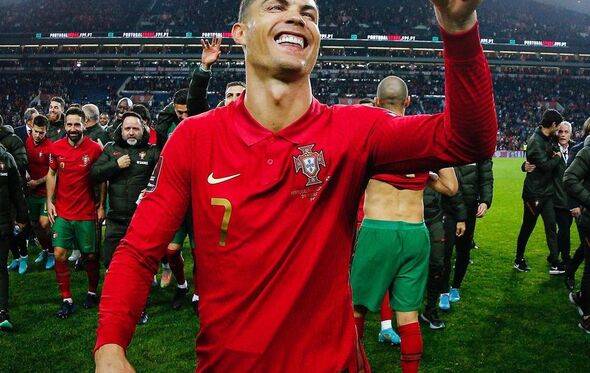 Cristiano Ronaldo after the decisive match of the Qatar World Cup qualifiers
Photo: Instagram
Rumors carry them with the wind and this week, the Portuguese ace made it clear that the one who governs his future is… himself! Saturated with speculation, he told reporters very clearly: "You are used to asking me the same question. Who will decide my future is me, no one else. If I want to play, I play. If I don't feel like it, I don't play. I'm the boss, period."Ronaldo said, it's said!
Loading video…
Ronaldo calls for anthem to be sung without music 'to show determination, energy and positivism'
What follows – whatever the fate of the son of D. Dolores – will never be a financial risk for the "golden boy" of Madeira. In 2020, Cristiano Ronaldo's fortune was valued at 895 million euros, become the first footballer to join the multi-millionaire clubwhose two other sports legends were already among them: golfer Tiger Woods and boxer Floyd Mayweather, according to Forbes. In September 2021, CR7 became the highest paid player in the world. With his return to Manchester, he secures around 62 million euros in wages alone and 49 million in everything related to partnerships and commercial actions, including the company which has its own brand.
Cristiano Ronaldo is a machine for making money… but also for investing it. To date, he has never announced the end of his playing career, but one thing is certain: he will not "disappear" from the map. In (almost) everything that moves turns to gold and fortune increases, far from the eyes of the followers.
HAIR TRANSPLANTS THAT MAKE MILLIONS
One of Cristiano Ronaldo's most recent and well-known investments is the Insparya clinic – dedicated to hair transplants – in which he is a partner with Paulo Ramos, founder and CEO of the Portuguese group, and with Fundos Vallis/Hermes.
Already with clinics in Braga, Lisbon, Porto, Quarteira, Madrid and Marbella, in 2020, the company earned 25 million euros. The plan is simple: expand Insparya across the world. CEO Paulo Ramos assures that the process is underway and that the plans cover several points in Europe and Dubai, where CR7 has privileged contacts and is one of his favorite retreats. "We are going to invest 40 million in Europe and in Dubai", he reveals to the newspaper 'Negócios'.

In the same publication, Paulo Ramos reveals that clinics should open in cities like Valencia, Milan, Paris, Rome, and be established in England, Germany and Switzerland. For Portugal there are also new plans: it will open a clinic in Viseu and Coimbra, Leiria and Aveiro are under study.
In 2021, the hair transplant business grew and "the turnover was 33.6 million euros", with a profit of 8 million, in net income.
THE BET ON TOURISM
There is another sector that has already had Ronaldo's signature for a few years: the hotel industry. Cristiano Ronaldo joined the Pestana Group and together they created another empire. In all, there are 5 hotels with the signature of the captain of the local team.
Funchal, the center of Lisbon, in Marrakech, on the Gran Vía, in Madrid and the lung of New York, in Times Square, were the places chosen by the ace to have establishments in his name.
Discover what the new CR7 hotel in Marrakech looks like
Created in 2015, Pestana CR7 Lifestyle Hotels is a brand born out of a joint venture between Pestana Hotel Group, the largest Portuguese hotel group, and the player.
The opening of other hotels is also planned. Among the cities spoken are Paris and Manchester..
OWN BRANDS

Hair transplant clinics, hotels… and brands bearing your name. This is another aspect of CR7's job.
To date, Ronaldo has five perfumes from the CR7 Fragrances range, a network of gyms – CR7 Crunch Gym -, a line of shirts, another line of pants, a museum in Madeira, a brand of sunglasses, a other blankets and more. : underwear, shoes and '7Legend' – a digital platform specializing in sports.
There is something for all tastes, but not for all budgets. Cristiano Ronaldo also invested in a famous restaurant chain in 2017: Tatel. A project from Mabel Hospitality, a subsidiary of MABEL CAPITAL. That is, an investment company founded by Manuel Campos Guallar, Abel Matutes Prates and the famous tennis player Rafa Nadal and which, among others, has as partners CR7, Pau Gasol, Enrique Iglesias and Rudy Fernández.

Beverly Hills' newest restaurant joins those in Madrid and Ibiza.
BUT NOT ALL WAS A SUCCESS…In time, was one of the most emblematic stores in Vilamoura Marina. When it opened in 2010, the establishment that owned the CR7 brand was all the rage among football fans. However, that wasn't enough to keep Cristiano Ronaldo's business going. According to 'TV Guia' magazine, the store was sold in 2019 for around 1 million euros.
Later, the store in Parque das Nações was also closed and, more recently, the one in Funchal.
The three were led by their sister, Elma Aveiro. "It was not an easy decision, because this is where my dream began. Many memories, passages and moments will be marked forever on this page that I will treasure in my heart, the point of reference for many people, a point where thousands of people wanted to stop once they came to visit our beautiful island of Madeira and with all my strength, a huge thank you", wrote the sister of CR7 the day when she closed the door of the island store.
Elma Aveiro at the cash desk of Cristiano Ronaldo's Vilamoura store
But other family dreams did not materialize. In 2018, Elma and Katia Aveiro found a restaurant at Marina Shopping, located in the center of Funchal. Everyone who has been to 'Cascatas e Girassóis' has been able to taste the best recipes of the matriarch of the family, Dolores Aveiro.

Also the restaurant closed during the pandemic, in March 2020, which had already been communicated by Katia on social networks. "We will close from the 14th to the 22nd and if for any reason it is justified we will extend the deadline," he shared at the time. Which ended up being confirmed and prolonged for indefinite months. The establishment never reopened.
Devastated! Katia Aveiro suffers from negative restaurant protests in Brazil
The same thing happened with the restaurant that Katia opened in Brazil, in Rio Grande do Sul. 'Casa Aveiro', Cristiano Ronaldo's family restaurant, terminated "its activities in Gramado", also in 2020.
After all, failures did not shake Ronaldo's legacy and the empire he built away from the field. CR7 adds and follows and promises not to stop there.
When you pack your bags, the future is in Portugal, in his mansion he is building in Quinta da Marinha, Cascais, with a land area of ​​8,991 square meters. Eyes on his country, but always turned towards the horizon: the conquest of the world is the limit for this Portuguese hero.