Approaching the presentation of the range of smartphones Redmi K50 company officials are increasingly generous in disclosing information. In fact, we now have new weight confirmations for the upcoming mobile phones. Xiaomi close the 1st quarter of 2022.
The latest information was shared via the Chinese social network Weibo by Lu Weibing, strongman of the brand which is part of the Xiaomi ecosystem. Thus, we have officially confirmed the technical characteristics indicated in this piece.
This is the general appearance of the Xiaomi Redmi K50 smartphone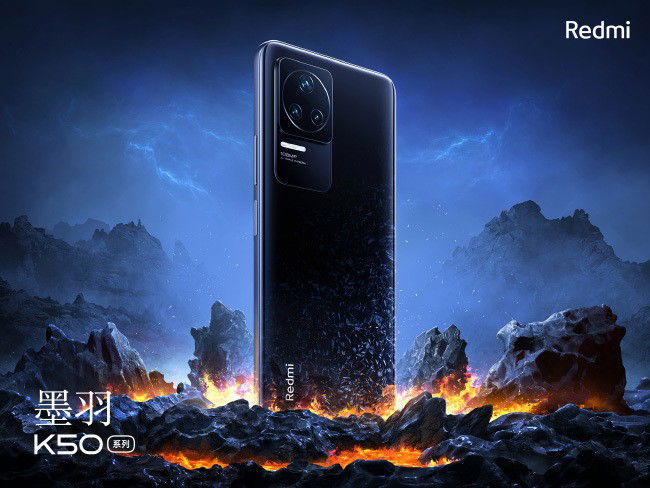 First, we have confirmation of the connectivity options for this Android smartphone to come with 160 MHz Wi-Fi support. This is the newest wireless internet connection standard, already present in homes in Portugal thanks to packages from operators such as MEO, NOS and Vodafone Portugal.
Therefore, if you buy one of the Redmi K50 models and your homes are equipped with a router Wi-Fi With Wi-Fi 6 support, you can enjoy a more stable and faster connection.
In short, a phone better prepared for the present and to retain its value and usefulness in the future.
Wi-Fi 6 is the latest confirmation for Xiaomi Redmi K50 smartphones
Redmi executive Lu Weibig also reveals other benefits of the Wi-Fi 6 standard and its support for Redmi K50 smartphones. Specifically, to mitigate interference between Bluetooth and Wi-Fi connections, something useful, for example, for those who use listeners Bluetooth and plays with an internet connection via Wi-Fi.
This Wi-Fi 6 standard should also guarantee connection speeds up to twice as fast compared to the Wi-Fi 5 standard. In short, even if you don't usually play games on your smartphone, connection speeds Internet higher will always be welcome. .
Superior audio quality with Dolby Atmos on Xiaomi smartphones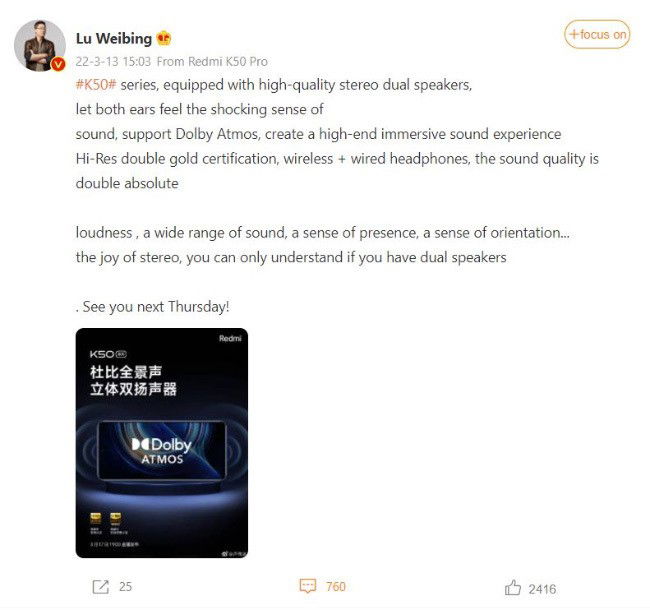 Secondly, to enhance the audio quality on the new Redmi K50 smartphones, the manufacturer guarantees support for the Dolby Atmos standard. Therefore, we will have two speakers certified by Dolby Atmos Stereo Speakers for greater fidelity and separation between the two channels.
In addition, for those who prefer a cable connection for audio, we have the Hi-Res Audio certification via USB-, as well as the Hi-Res Wireless standard, already for wireless headphones and / or earphones. That is, both possibilities will guarantee better audio quality.
Finally, we remind you that the line of Xiaomi Redmi K50 smartphones should be officially presented at the 17th of March. Also new are the debut of MediaTek's Dimensity 8100 processor, comparable in performance to the Exynos 2200, as well as Qualcomm's Snapdragon 8 Gen 1.
4gnews editors recommend: