Stress and sleepless nights have major effects on the skin, such as premature aging, as well as on mental health. Many insomnia problems arise due to modernization, as using screens and rowdy routines has become a part of many people's lives.
Why can stress affect the skin?
In an interview for L'Officiel magazine, the dermatologist from the Brazilian Society of Dermatology explains why stress affects the skin. "In times of stress and anxiety, our body releases a greater amount of cortisol, known as the stress hormone, which promotes an inflammatory state of the skin tissue, thus promoting skin aging with the consequent appearance of spots, sagging and wrinkles. ".
Another skin stress issue is its impact on the microbiome. "There is a burgeoning area of ​​research showing how our commensal microbes – the native populations of bacteria, viruses and fungi that colonize our skin – improve our health." says another dermatologist, member of the Brazilian Society of Dermatology.
And the sleepless nights?
The plastic surgeon, member of the Brazilian Society of Plastic Surgery, explained how stress and poor sleep quality can contribute to skin aging. "It is during sleep that cells renew themselves and free radicals are eliminated", he explains.
How to fight against these problems?
Badly slept nights contribute to swelling, that is, the consumption of at least two liters of water per day is of great importance. "Coconut water and green tea are also options. But always remember to control the amount of sodium in meals: it contributes to water retention. And watch out for canned juices, which also have a lot of sodium in their composition," said the doctor.
---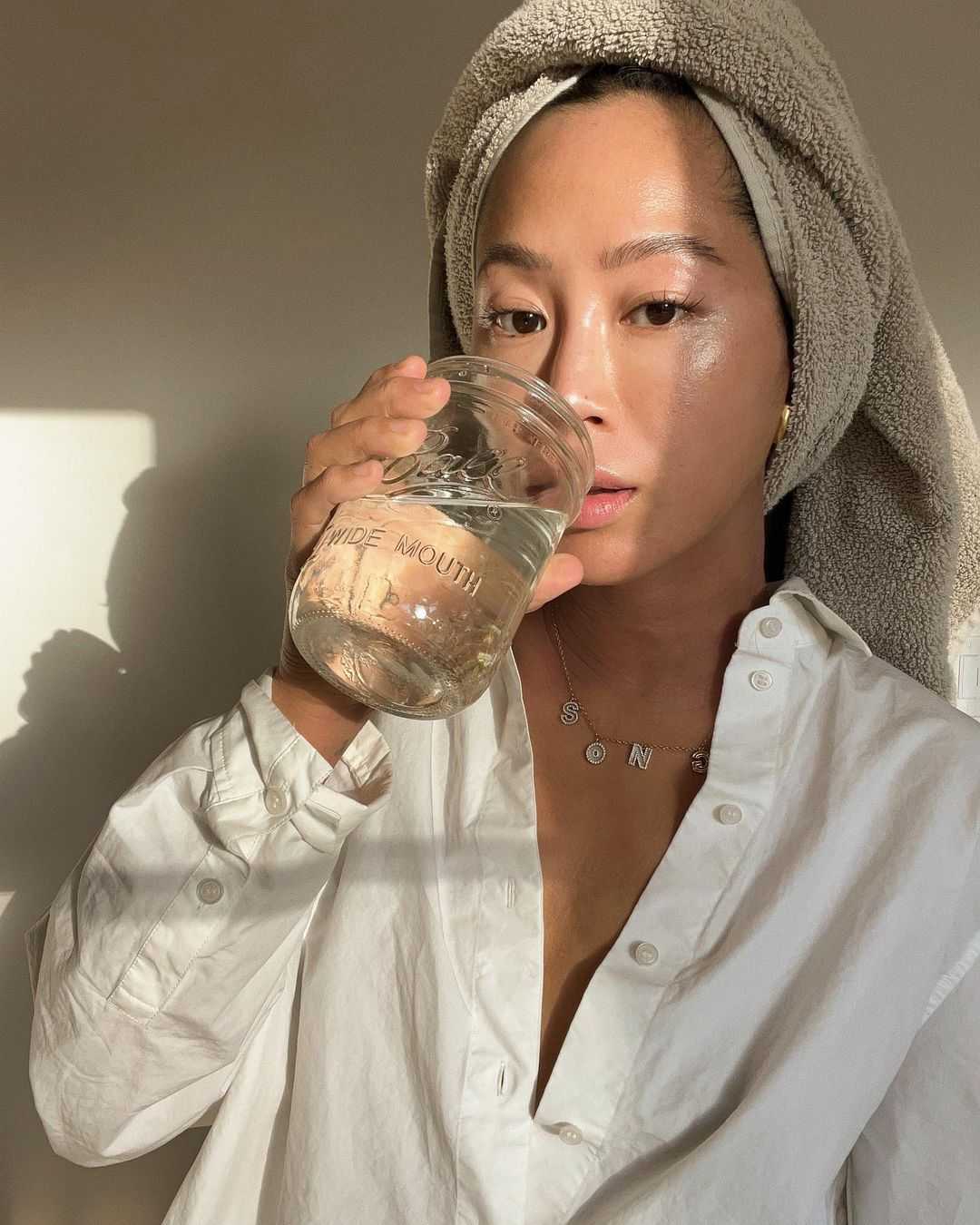 Consuming water is important not only for the skin, but also for the health of the whole body (Photo: Reproduction/@aimeesong/Instagram)
---
Physical exercises are also essential for relieving stress, as well as improving swelling. "Muscle contraction itself already contributes to the drainage of fluids. Combine exercise with a balanced diet, increasing the consumption of kale, broccoli, cabbage, cauliflower, as these vegetables improve the elimination of toxins. This will benefit the whole body by reducing swelling. she counts.
To help combat these effects on the skin, it is possible to use products with effective and natural active ingredients, such as pomegranate oil, a powerful antioxidant that strengthens the skin's immunity and fights free radicals. Dermatologists also indicate treatments that can be done around the eyes and mouth to stop aging.
Featured photo: Physical exercise and a good night's sleep are great allies against premature aging. Reproduction/@lisaeldridgemakeup/Instagram.
READ MORE