Last Monday (28), Oppo took advantage of the first day of Mobile World Congress 2022 to present a new charging technology for smartphones. With powers of 150 and 240 wattSuperVOOC chargers promise to top off a 4,500mAh battery in just 15 and 9 minutes, respectively.
In addition to being compatible with the next smartphones from Oppo, the novelty should also appear on the lines of OnePlus, but with another name. Indeed, the two companies are part of the BBK Electronicsa conglomerate that also controls Vivo and Realme, two other Chinese smartphone makers.
In the case of the technology presented this week by Oppo, the chargers still bring a series of novelties. Among them, the battery health engine (BHE) promises to monitor charging in real time, making instant adjustments to the current.
depending on the brand, even after 1,600 full charge cycles, the algorithms that make up the feature are able to preserve up to 80% battery health. Therefore, if the loading speed alone is not impressive, it should be, since, On average, a typical battery loses 20% of its capacity in just 500 charge cycles.
In an official video, Oppo demonstrates the capabilities of the new 240-watt SuperVOOC charger. The accessory completes the 4,500 mAh recharge in just 9 minutes
However, for some reason that Oppo does not explain, this function only seems to be available on the 150 model. watt. By the way, although it has demonstrated that the most powerful charger works, the impression is that the SuperVOOC 240W has no deadline to arrive in stores.
The first, although no date is set, should be officially launched in June, along with new compatible smartphones. Another information from specialized media is that the OnePlus line should debut the novelty, instead of the Oppo models.
New technologies also help maintain portability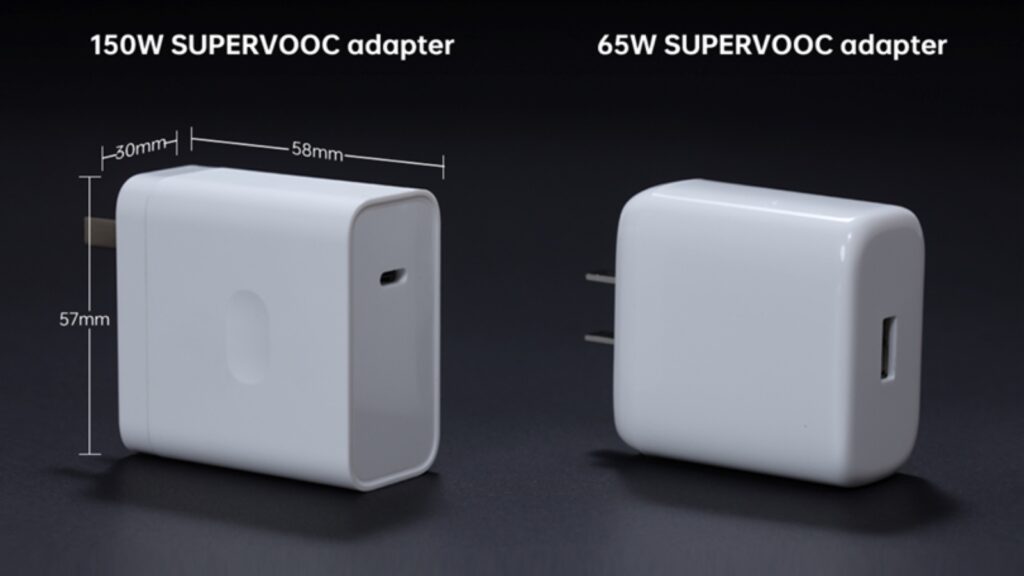 In addition to the feature that preserves the battery's chemical electrodes, reducing charge and discharge degradation, Oppo's new SuperVOOC also includes Gallium Nitrate (GaN) components. In this way, the charger not only supports higher currents, but also manages to be much smaller than a traditional accessory with this capacity.
To give you an idea, even with almost triple the power, the 150 watt from Oppo is the same size as the 65W.
But, after all, is a powerful charger bad for the battery?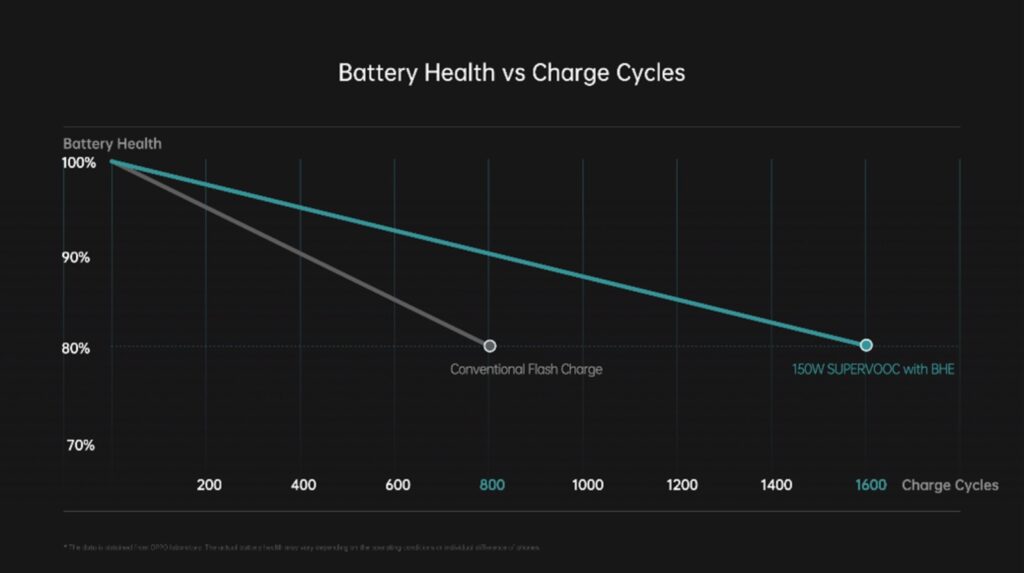 Oppo graph details battery degradation by number of charge cycles, comparing branded smartphones and accessories vs average over other fast charging technologies.
With so many new and faster wired and wireless charging technologies, a question that often arises is what risks such a rush can pose to battery health.
At first, there's nowhere to go: a battery that charges faster actually tends to suffer more in the long run. Despite the fact that many signals are exchanged on internet forums, the fact is that for a number of reasons, including heat and intensity of battery use, faster charging also accelerates degradation of the component.
However, what we see in cases like SuperVOOC are multiple actions to mitigate these effects. This, in turn, is not unique to Oppo: even less powerful chargers and other brands, with 20, 45, 65 watts, rely on specific technologies to preserve battery life.
Moreover, in most cases, as well as for smartphones from Oppo and OnePlus, such high charging rates are only achieved with accessories from the brand itself. Indeed, in addition to a powerful and safe charger, the smartphone must also be prepared, which almost always involves proprietary technologies and resources.
In other words, in practice, such a fast charger will pose little real risk to the health of your smartphone battery. This, of course, if you use the accessories indicated by the manufacturer and compatible with the charging capacity of your device.
In other words, if the smartphone is, in fact, compatible with refills "of this caliber", there will certainly be a series of features, both in the accessory and in the mobile phone, acting to mitigate, as much as possible, the negative effects of faster charging.